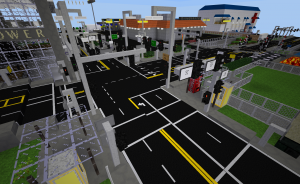 The LTC-4000 is our current traffic light controller for intersections of all sizes. It includes many of the same great features as TrafficNeXt, while adding several new capabilities.
Using the new touchscreens (from digistuff), the LTC-4000 offers a GUI-based menu-driven setup, management, and monitoring system.
The LTC-4000 is capable of controlling anywhere from a small 3-way intersection all the way up to a 4-way intersection with multiple crosswalks, protected/permissive left turn, and heavy traffic volumes.
Additional features to increase reliability include fault monitoring, automatic fallback to flash mode if a critical error occurs, and proven TrafficNeXt-inspired design.
To provide for an easy installation, the LTC-4000 uses a simple system design. Only one Luacontroller is needed to operate the system, and all communication is performed over one digilines bus. No mesecons are needed, and peripherals may be physically located wherever desired. Crosswalk setup has also been simplified, with TrafficNeXt backwards-compatibility to aid in upgrading existing installations.
The LTC-4000 is already in use at over 40 intersections. If you'd like to see one in action, visit VanessaE's Creative Server and head over to (-292,14,693).
Documentation coming soon